Water Crystals = the Spirit?
A lot of progress has taken place since I last learnt about its scientific findings, but I know a lot of people only pay attention to the meaning of this discovery only on the surface.

This topic is something that I have been pondering over for the past two years, I contemplated blogging about it as the complexity of this subject makes it very challenging to me grammatically, so please bear with it, I am trying as much as I can to use a lot of pictures instead for better illustration to denote meanings. It is something you will apply in everyday life no matter what religion, colour, ethnic, age you are.

***

MY THOUGHTS ABOUT DR. MASARU EMOTO'S RESEARCH.

Maine:
If not in real life, we see in the movies how water is used to ward off evil spirits byy sprinkling water that has been prayed upon onto exorcised persons or to cleanse certain places. The Hindus bathe themselves in Ganges River to cleanse their sins. The Muslims drink water which has been prayed upon by pious people to gain calmness of the soul (air penerang hati). The Christians has the Holy Water for Christening etc. Have we wondered, why water?
I couldn't find a picture of sample of water crystal from those holy sources. But here's a few: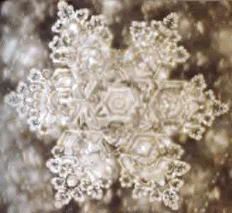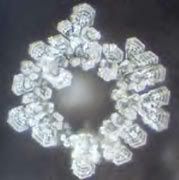 1.Water Source: Saijo-Japan 2.Water Source: Lourdes-France
My contemplation:
People of every race and who worship other Gods in this world can enjoy 'good' water.

Dr. Masaru Emoto (Japan):
"Water has a very important message for us. Water is telling us to take a much deeper look at our selves. When we do look at our selves through the mirror of water, the message becomes amazingly, crystal, clear. We know that human life is directly connected to the quality of our water, both within and all around us.

Mr. Emoto has been visually documenting these molecular changes in water by means of his photographic techniques. He freezes droplets of water and then examines them under a dark field microscope that has photographic capabilities. His work clearly demonstrates the diversity of the molecular structure of water and the effect of the environment upon the structure of the water."

My contemplation:
I am sure you heard or read about doctors telling expecting mothers to put on headphones on their stomachs and some of the things they should play are classical music and prayers? that expecting moms should try view upon more beautiful things too. Sometimes we think people who's obsessed about getting perfect children do the strangest things.
But I think this illustration on Dr. Masaru's findings may provide spiritual rationale behind it: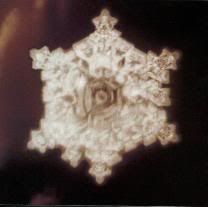 Exposed to the song 'Beethoven-Pastoral'.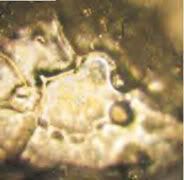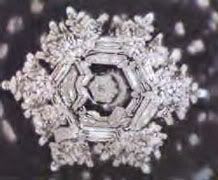 Fujiwara water - Before prayer & Fujiwara water - After prayer
My contemplation:
So? What's the relationship between water being prayed and listened to classical music got to do with babies in the stomach?
Be in the know that 80% of our body consists of water/liquid (this is a scientific fact). Now make your own assumptions, I am sure we all have the same conclusion.
My contemplation:
Now look at other Dr. Masaru's findings. The process of changing the crystals of the water from its first state is by saying words, in any language!
The process of words or sounds we utter reaching towards water is sound waves that create vibrations. Could good or bad vibrations be the only means to change its molecular structure?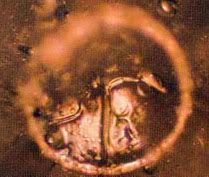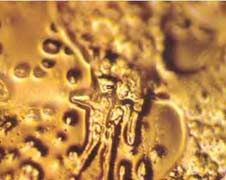 Exposed to 'Hitler' word and Exposed to sentence 'You make me sick- I will kill you'.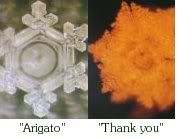 My contemplation:
The answer is no
. T
hese water crystal changes its molecules to look unsightly even only by having little pieces of papers with words written on it with words such as above pasted on the cup or glass surface.
Even thoughts can create vibrations - the intangible changes the tangible!

Now, of course this
.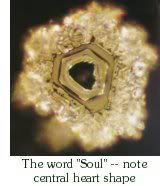 My contemplation:

It seems like the water crystal is telling us something? Could it be that the soul is located within our hearts? Or that they are one?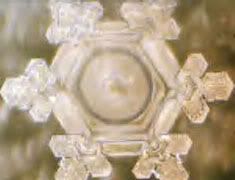 That's after the word 'Thank You' is uttered to it.
NOW ENOUGH OF WATER CRYSTALS PICTURES. THERE ARE TWO THINGS THAT MAY JUST BLOW YOUR MINDS! THIS ARTICLE IS ABOUT TO FINISH.
1. Dr. Masaru:

"And so, looking at the pictures of the water crystals and the impact they are having, I came to realize that these themselves are ghosts. Up until now, I had thought of ghosts as something to be frightened of, something that we could do nothing about. But watching these crystals, I realized that by simply projecting beautiful music and words onto them, the crystals or ghosts become beautiful. If that's the case, there's nothing to be frightened of. We need to let everybody know about this, and all use beautiful words and offer beautiful music, and create beauty in the environment".

When we are alive, the human body is at approximately 36 degrees Celsius. This is the temperature of the fluids in the body. When we die, this goes to zero degrees Celsius. When we die and go to the other side, crossing the river, we are no longer able to move our bodies. But the crystalline structure of our soul emerges. It's like water. When water turns to ice, the crystalline structure becomes visible, but it also becomes immobile. So "crystal" equals "spirit."
COULD ADAM BE A VERY DARK SKINNED PERSON?
2. "The purest well is the Zam Zam well. The purest two valleys for human are the valley in Makkah and the valley in India (Ganges River). For that is where Adam landed from the heaven. In it there's goodness for my creatures"

My contemplation: I'm curious, are there valleys for the angels, the geannies and all those 4th dimension beings?
Adam was dropped in which valley? India or Makkah? I think it means Adam fell in one place and Eve fell in another? Could it be that one is dark skinned and another is really fair?

The verse above (No 2) is a Sunnah by Prophet Muhammad s.a.w. "Sa'id bin Mansur meriwayatkan dalam kitab sunnahnya. "

3. Ponder this: Our parents always tell us to behave; not to ever insult the food or argue among each other infront of our meals. Praying before meals that we are thankful to God for what's on the table is now hardly practised.
My contemplation: NOW, THAT INVOLVES NOT JUST THE WATER THAT WE DRINK, PARENTS TELL US TO RESPECT THE FOOD WE EAT TOO. FOOD CONTAINS WATER. IN A BIGGER PICTURE EVERYTHING THAT'S ALIVE CONTAINS WATER. THERE'S MOISTURE IN EVERY LIVING CELL.

I bet it's not really because they knew the secret of water, it's just meant for us to mind our manners.



My contemplation: Everything in this world that's alive receive and emits vibrations. Perhaps that's how love at first sight happens, that's also how we could dislike someone although we never spoke to em etc.
Just for knowledge sakes to other religion, Muslims are told by our Creator that we are made out of two things, water and soil.

Again, since our body consists of 80%f water, say good things and do good things to yourself.

The common things we observe daily, those who utter soothing and loving words to their plants, children, parents so much, the results is always positive, if not physically, at least of course spiritually!
I'm just sincerely sharing my thoughts of what I discovered. You are welcomed to share yours too here.
Click on Dr. Masaru's link above to find out more.
***************
Sidetrack on relationship regarding water and Islamic teachings and the impact it has made to our daily life:
For those who wants to find out how a local
entrepreneur
who uses this both scientific and religious method in her business, explore the link. It's interesting. The water is called Musoffa Za'faran. I just discovered that Za'faran is actually Saffron as in the herb, the secret about this herb is also mentioned in the Quran.
And regarding the holiness of Zam Zam water. My contemplations again, ponder how Makkah is the centre of the universe (click
here
to view illustration). And how we pray towards one direction, all that prayers, that vibrations that focuses towards Zam Zam well.