Who's your Spiritual Icon?
When I started Mainetalities, I couldn't put it in words why I'm aspired to make a collection of thoughts from various religious icons.
Just recently a new friend, Rashid, I met through a blogger came over and handed me two picture frames, one contains the famous 'Desiderata' text, another contains 'The Earth is Precious' text on the most profound statement regarding land written by The Great White Chief in 1854 in Washington. I was completely bowled over by this gesture.
He puts my aspirations right, that I saw Islam at the end of every beautiful things I see or read. At least, that's what I wish other people see Islam as too. I'm so happy that Mainetalities's purpose is now explained.
***
The People's People
Once, the great Asian Marketing Guru, Hermawan K. shared with me who his spiritual icons are. They are namely: Lady Diana, The Late Pope and Mother Theresa. He reasoned that these people deserve the title because whatever deeds they do goes to all walks of life.
When I shared this to my friends, some will say, "But Lady Di had so many affairs", "But they said Pope was a paedophile" blaa blaaa. Why is it that these Holier than Thou can't leave them alone when it comes to what's between them and their God and see the bigger picture?
Hermawan's presentation touched me slide by slide although the content was really more about Marketing issues. At the end of it I thought, what a spiritual person this man is. At the end of the day I was disappointed that he's not a Muslim as I felt from the beginning of our session. And then I got disappointed with myself for thinking that way as it doesn't have to take a Muslim for us to discover the beauty of everything around us and God Al-Mighty.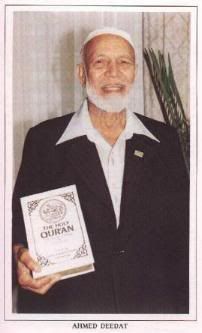 The Muslim's ic
on
Shaikh Ahmad Hoosen Deedat
passed away at the age of 84 on 8th August, 2005. The news didn't come out on first page of newspapers like the others.
Well, maybe because he wasn't capable of saying or doing anything during the 8 or so years suffering from stroke which puts him completely out of the limelight.
In times like this when Islam is only associated with terrorism, where is someone who'd speak for a cause like him?

***

The Malay's Icon.
The Akademi Fantasia phenomena this year has put forward a supposedly new breathe of a Malay/Islamic icon, none other than Mawi.
One of the AF professional jury, Adlin Aman Ramli, had it spot on about Mawi,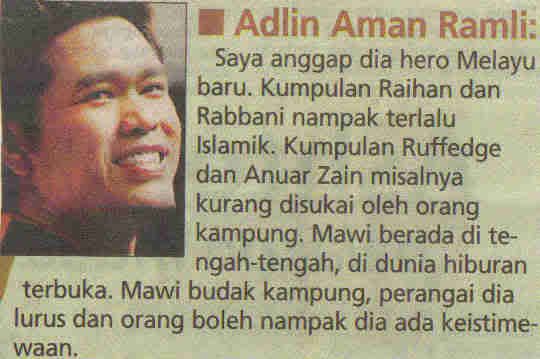 My Spiritual Icons
At first I kept pushing my attention aside towards this lady. Hated the wild facade she portrayed when she used to be with her ex-husband, Bob Thornton. What am I saying??? That's between her and God. Who would have thought that someone like her would donate (USD2mil) to the Afghans PERSONALLY? She flew down to Afghanistan, did some ground work like handing food and clothes along with handing the money. Just a couple of months later, she handed another million. Even the Arab's king won't do that.

I want to move myself around the world for the same purpose as her although I am not a millionaire. Jolie had also donated USD2mil for the orphanage in Cambodia last year and when I looked at this picture in the newspaper, I am so proud of her. She received the Cambodian citizenship signed by King Norodom Sihamoni in recognition of her environmental work in the country. She is spending USD5mil over the next 15 years to set up a wildlife sanctuary in Battambang.
I think that makes her greater than Lady Di, it's all her personal thoughts and her own hard earned money. And she's gorgeous and she's adventurous and she'd adopt kids despite their ethnic differences.
The one other icon of mine is none other than Tan Sri Syed Mokhtar Al-Bukhari. Why? I think you have already read his biography below, sorry for those who can't read in Bahasa Malaysia though.